Round the World - 2006

I want to preface by saying that this was the best trip I have done so far. It allowed me to gain a greater insight about our world and it's people. Asia in particular is a fascinating continent with a dynamism and growth that often is no longer present in more mature countries.

I have meet many great people during these 7 weeks and hope to see some of you again, so please write me if you happen to visit Europe in the future. Somebody asked me what the worst experience of this trip was... and I could not think of a bad experience. It is reassuring to have found such a welcoming world. If you have the opportunity and can make the time... try planning your own trip around the world. It is not nearly as expensive as you might think and you will make plenty of friends, so doing it alone is not a problem.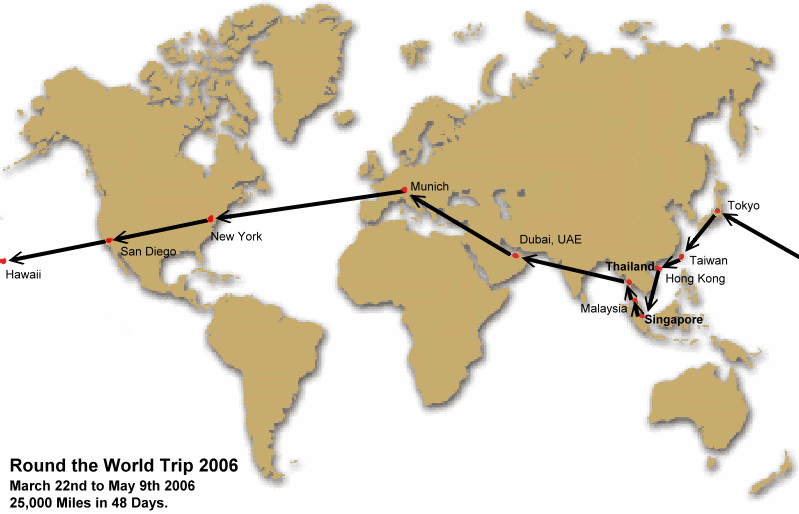 Visited locations in chronological order.



Interested in doing your own around the world trip ?
I was very happy with my Staralliance Round the World Ticket. 2400 Euro will get you 15 flights anywhere in the world within a year for a maximum of 29,000 miles with all staralliance air lines (18 Air Lines, among them Lufthansa,United, Singapore Air, Thai Air etc...). For more information download the mileage calculator at www.staralliance.com.


Recordings to be posted at a later date.
I have about 400MB worth of recordings, some of them quite good. Once I figure out / get a good hosting cost I will post some recordings.